MEX II
The Lebuhraya Putrajaya – KLIA (MEX II) is an 18 KM, three-lane dual carriageway that will commence at Putrajaya Interchange and merge onto the existing Lebuhraya KLIA (FT26) in Sepang.
Putrajaya Interchange with a trumpet configuration will be designed for connectivity to the existing Putrajaya Toll Plaza.
The Expressway comprises the following:
Mainline connecting Lebuhraya Maju Expressway (E20) to Lebuhraya KLIA (FT26)
Putrajaya Interchange to Putrajaya/Cyberjaya
Entry and exit ramps from Lebuhraya KLIA (FT26) to and from the Expressway
One mainline toll plaza, two ramp toll plazas and Supervision Building.
Benefits of MEX II
Providing shortest route to the national administration region of Putrajaya and the city centre of Kuala Lumpur.
Contributing the growth of housing and business development in the surrounding areas.
Direct connection to KLIA and KLIA2
MEX 2 as an alternative to users from Putrajaya to KLIA and vice versa. Users can choose other alternatives such as Federal Route FT 29 (toll free), ELITE and PLUS.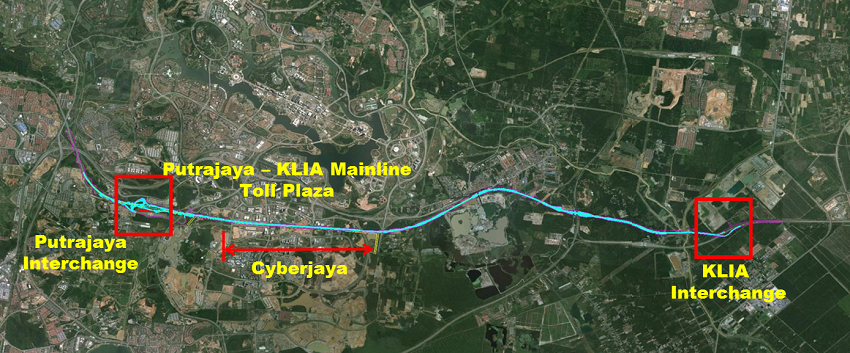 Summary of Project
| Description | Unit | Quantity |
| --- | --- | --- |
| Carriageway | meter | 18,000 |
| Traffic Control & Surveillance Systems | | |
| Emergency Telephone | | Every 2km (both sides) |
| Close Circuit TV (CCTV) | | Where Necessary |
| Variable Message System (VMS) | | Min 2 units |
| Bridges | No. | 26 |
| Vehicular Box Culvert | No. | 2 |
| Mainline Toll Plaza | No. | 1 |
| Supervision Building | No. | 1 |